Welcome to OrlandoCockers.Com
All our Dogs and Puppies are AKC Registered.
Orlandocockers - thru the years...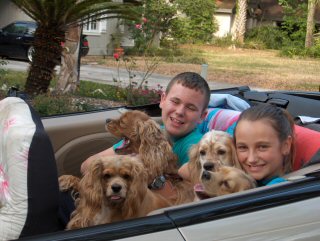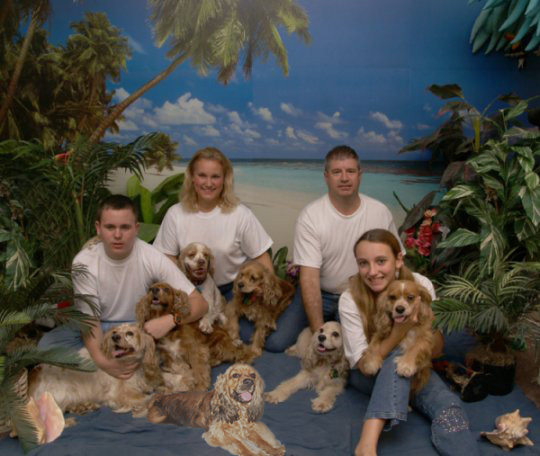 Above left -2005 - Dogs shown are Tiffany, Coco, Bianca and Lexi. All are retired.
Above right taken in 2007. Dogs shown are Bella, Bianca, Coco, Jasmine, Jessie, Lexi, and Tiffany. All of these dogs are now retired.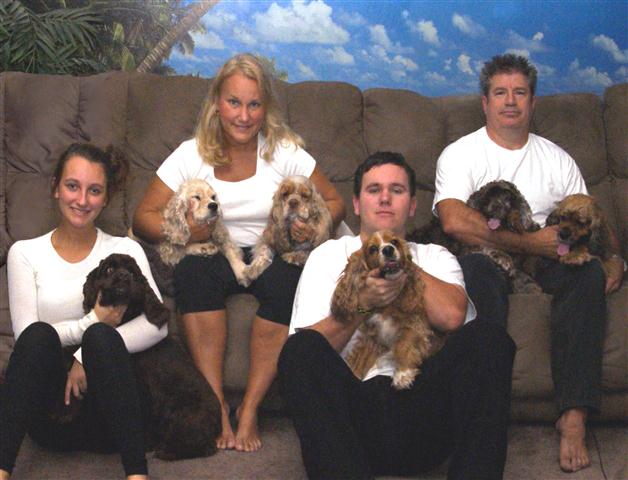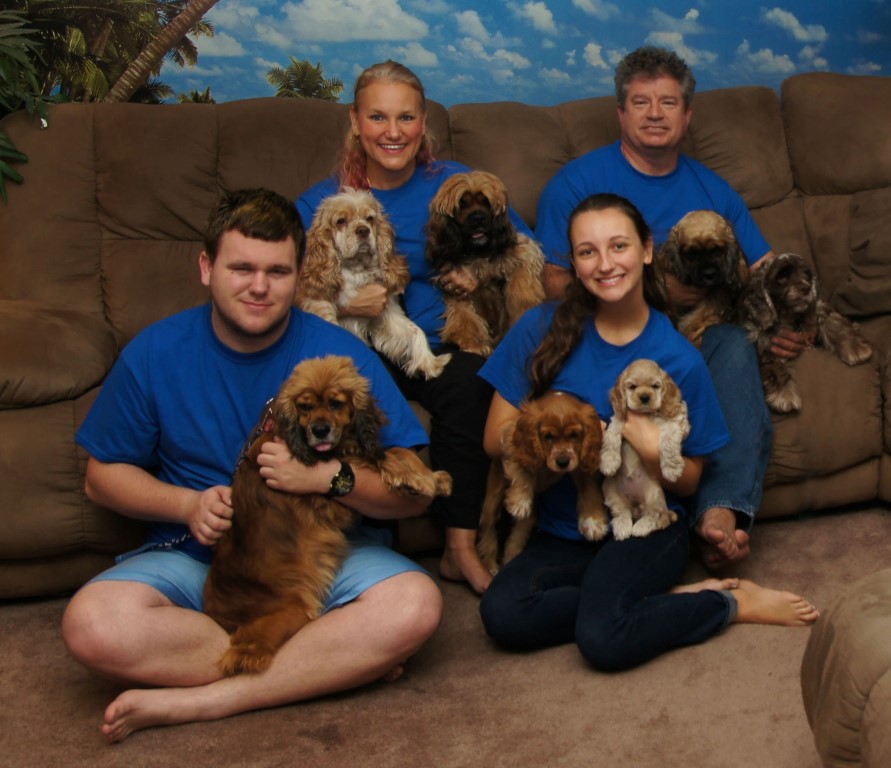 Above left -2011. Dogs shown are Ace, Bailey, Bella, Jasmine, LeiLani and Willow. All of these dogs are retired.
Above right - 2013. Dogs shown are Jasmine, LeiLani, Willow, Taz, Roxy, Daisy and Cheri.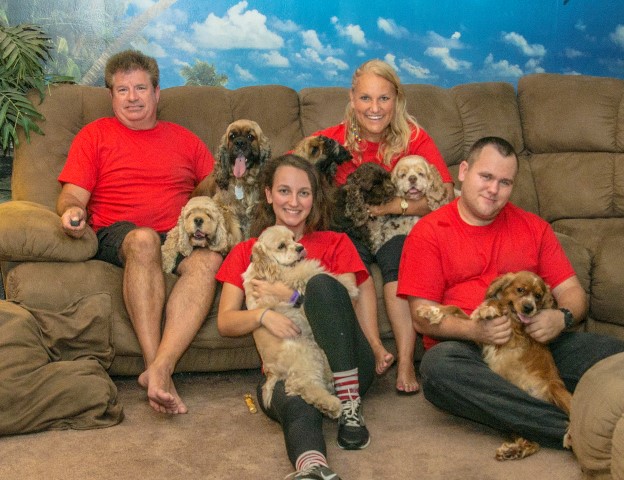 Above picture taken December 2015. Dogs shown: Taz, Willow, Roxy, Cheri, Daisy, Patty Patches and Lily.
Pictured above on December 2017 - In order top left across - Jewelz, Lily, Taz, Bandit, Blue, Daisy, Roxy, Willow and Patty!
------------------------------------------------------------------------------------------------
We have been breeding cockers since 2004 and it is truely a labor of love. All of our puppies have their tails docked and dew claws removed. (This is the claw on inside of front feet that can catch on your clothes when they jump up.) Both procedure are performed in our vets office at 2 days of age when the puppies nerves are not completely formed in these areas. Our pups are then dewormed at 2, 4 and 6 weeks of age. At 8 weeks of age the pups are brought again to the vet to have a health check up, tested for worms, and given their first set of shots. A state of Florida heath certificate is given with each puppy.
Inbreeding and line breeding (mating with brothers, sisters or cousins) is used by some breeders to help cut costs and occurs when pups are kept to be used for future breeding. It is terrible thing that can generate genetically ill puppies. The defects usually show up when the dog is about a year old. We can guarantee there is no chance of inbreeding with all of our puppies. All of our cockers are from different states - Tennessee, Idaho, Georgia, Indiana, Louisiana, North Carolina and California. We have had our male DNA tested per AKC standards to ensure their genetics and parenthood. Each puppy comes with an AKC family history showing three generations.
Colors normally available include: buff, red, white parti, black, chocolate, sable and silver.
Past Puppy Pictures below:
ALL OF THE PUPPIES BELOW HAVE HOMES! THEY ARE NOT AVAILABLE.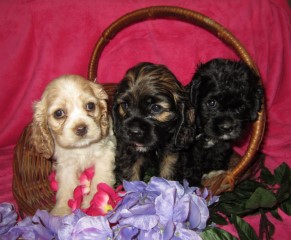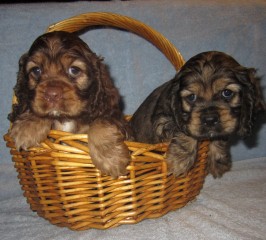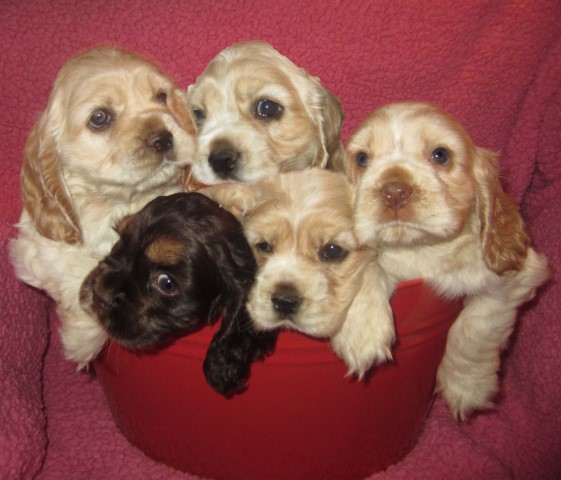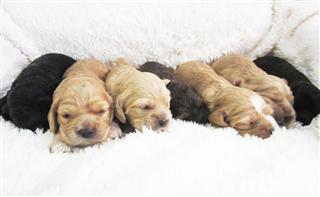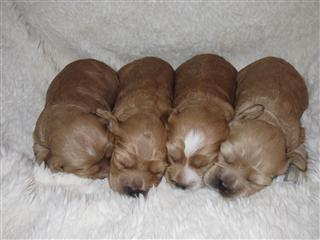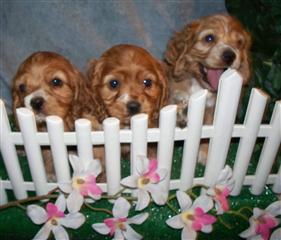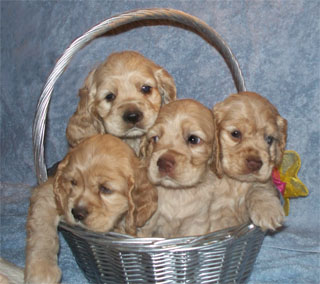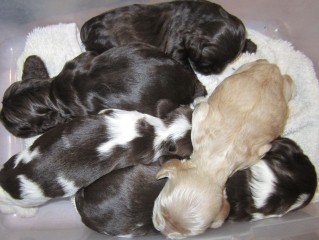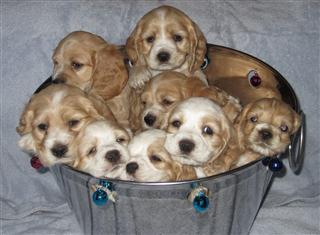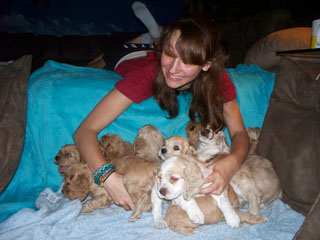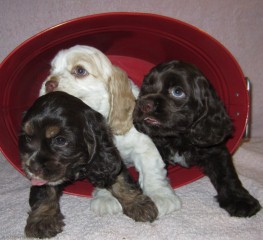 Check back in soon for updated pictures of our newest litters. We usually have just 2 litters a year. If you would like to be on the waiting list for a puppy, please email sandy@orlandocockers.com